Seventy-seven people were killed on 22 July 2011. Assuming that each deceased person have ten bereaved, there are around 770 bereaved family members of those killed in the government building complex and on Utøya. Around 210 parents and siblings lost a child or a sibling on Utøya.
The consequences of unnatural and violent deaths, such as those caused by acts of terror, are enormous. International studies have shown a high prevalence of anxiety, depression, traumatic reactions and complicated grief reactions among bereaved families after acts of terror. Such losses can result in extensive and long-term trauma and grief issues, which in turn result in reduced quality of life, and many dropping out of education and work.
After the terror attack on 22 July 2011, the health authorities instructed municipalities to provide proactive follow-up to the immediate families. Everyone, including the survivors, were to be given a designated contact person and continuity in follow-up for at least one year. The follow-up model was based on the Norwegian welfare system through a universal principle of the right to healthcare, emphasis on preventive healthcare work and client participation. In addition, the Directorate of Education actively used Norwegian expert groups in order to ensure that pupils and students were met in a proactive manner. In addition to receiving offers of support at the municipal level, the bereaved families were invited to attend four national weekend meetings at Gardermoen organised by the Directorate of Health.
The Centre for Crisis Psychology wished to assess how the psychosocial follow-up of bereaved families had functioned in the time after the terror attack. Both bereaved parents and siblings participated in the first survey, 18 months after the attack. A total of 67 parents and 36 siblings participated in this survey, which was part of a larger study on bereaved parents, with three measurement points: 18, 28 and 40 months after the terror attack.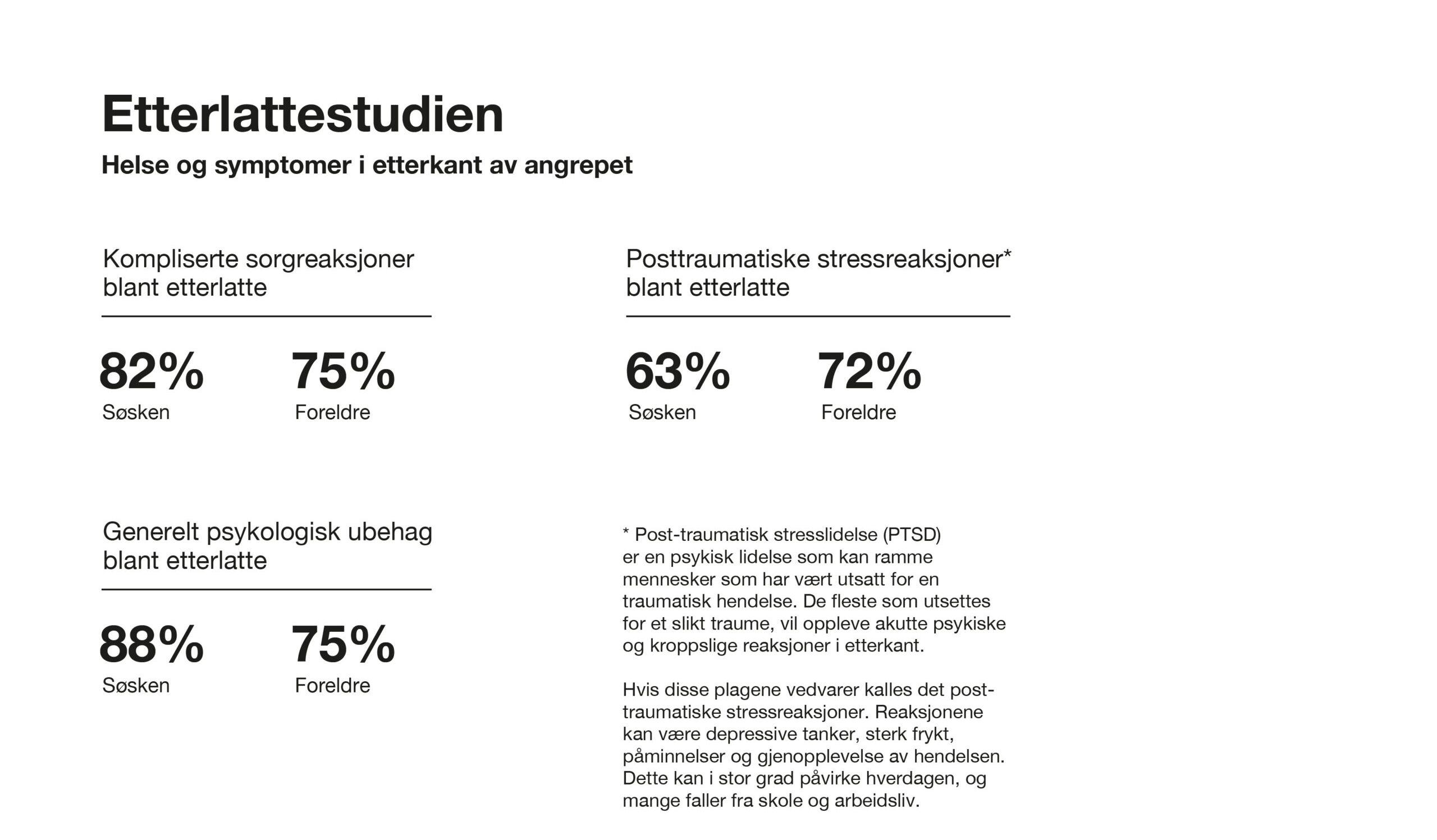 Picture 1
Picture 1 presents the prevalence of complicated grief reactions, post-traumatic stress reactions and general psychological distress among the bereaved families 18 months after the terror attack.
Eighteen months after the terror attack, the bereaved parents and siblings reported a significant need for help. Only 9% of the parents and 24% of the siblings reported that they to a lesser extent needed help from support services. Up until 18 months after the terror attack, almost all parents (94%) and siblings (97%) had received help from support services. Psychologists/psychiatrists and GPs were the occupational groups which siblings and parents had most contact with after the attack. The minority who reported a lack of help in the time after the attack, mainly wanted help from a psychologist/psychiatrist and GP. Within this group, siblings stated that, more than anything else, they felt a lack of help from the school (14%).
The bereaved family members have provided professionals with good advice on support after such events. Particularly parents, but also siblings, emphasised how support should be organised to enable those affected to benefit from it. They reported that it was important that the support services were readily available and to ensure continuity in the follow-up; support providers should initiate contact, offer help and repeat the contact. One parent summed it up as follows:
'Provide support, and never say "Just call if you need anything, we're here". I didn't know what I needed. The threshold for making that call is VERY high. Initiate contact and follow up'.
The bereaved parents and siblings described it as crucial that support was provided in an understanding manner and that those providing support were empathetic and competent. It was important that they took the time to listen and also acknowledged that the grief, pain and shock of the bereaved would take longer than following a 'normal' death. The bereaved's wish for understanding means that support must be based on professionals' awareness of grief and trauma so that the bereaved can learn more about what grief means and what reactions are common after such events. Both the parents and siblings highlighted the importance of providing everyone with support suited to their needs. They asked for early, clear and repeated information, and support providers who listened to their thoughts and conversations about what they found painful and difficult. They wanted help to deal with the loss and to be able to live a more or less normal life. The importance of facilitation in the workplace and at school was also highlighted in this feedback. In addition, the importance of understanding the need for tailored teaching and reduced course programmes was also emphasised.
18 months after the terror attack on Utøya, 69% of the respondents in the study reported a 'great need for help', while at the same time very few reported that they did not need any help. The great need for help expressed by so many was probably related to the fact that the bereaved persons participating in this study had suffered loss, in addition to extreme trauma and intense and long-term reactions. Other parts of the study showed that they probably also had a somewhat delayed grieving process as their private grief 'was put on hold' because of the lengthy external 'noise' of the court case, the judgment, the 22 July commission's work and the massive media focus on the killings.
The study conducted by the Centre for Crisis Psychology demonstrates that it takes a long time to process the loss of a child in a terror attack. For a significant number of parents, the loss is associated with long and intense mental health issues and reduced functional ability. Therefore, follow-up services must be maintained over a long period for those who need and want such services. The main findings of the third study from 2014 were that many were still struggling with grief and trauma reactions, and that the impact was still reducing their work capacity and social functioning. The Centre for Crisis Psychology commenced a new study in autumn 2019 which will look at how the bereaved family members are doing eight years after the terror attack.
Centre for Crisis Psychology and NKVTS
Dyb, G. & Jensen, T.K. (2019). Å leve videre etter katastrofen. Stressreaksjoner og oppfølging etter traumer. Oslo: Gyldendal.
Dyregrov, K., Kristensen, P., Johnsen, I., & Dyregrov, A.  (2014). Hvordan fungerte den psykososiale oppfølgingen for etterlatte etter 22. juli-terroren?  Scandinavian Psychologist, 1, e7. https://doi.org/10.15714/scandpsychol.1.e7
Dyregrov, K., & Kristensen, P. (2015). (2015). Utøya 22. juli 2011 – senfølger for etterlatte foreldre. Scandinavian Psychologist, 2, e13. https://doi.org/10.15714/scandpsychol.2.e13