The Norwegian Centre for Violence and Traumatic Stress Studies (Nasjonalt kunnskapssenter om vold og traumatisk stress, NKVTS) collected three sets of data for the Utøya study in the period 2011-2014. The fourth data collection will be completed in spring 2020. The study maps the reactions of the survivors and their parents, during and after the terror attack on Utøya. The study also looks at physical and mental health issues, coping and social functioning over time.
Everyone who was on Utøya during the terror attack according to police lists and who was over 13 years of age in 2011 was invited to participate in the study's first and second interview rounds. Those who did not wish to take part in the first interview round were not contacted again. The interviews were conducted by medical personnel.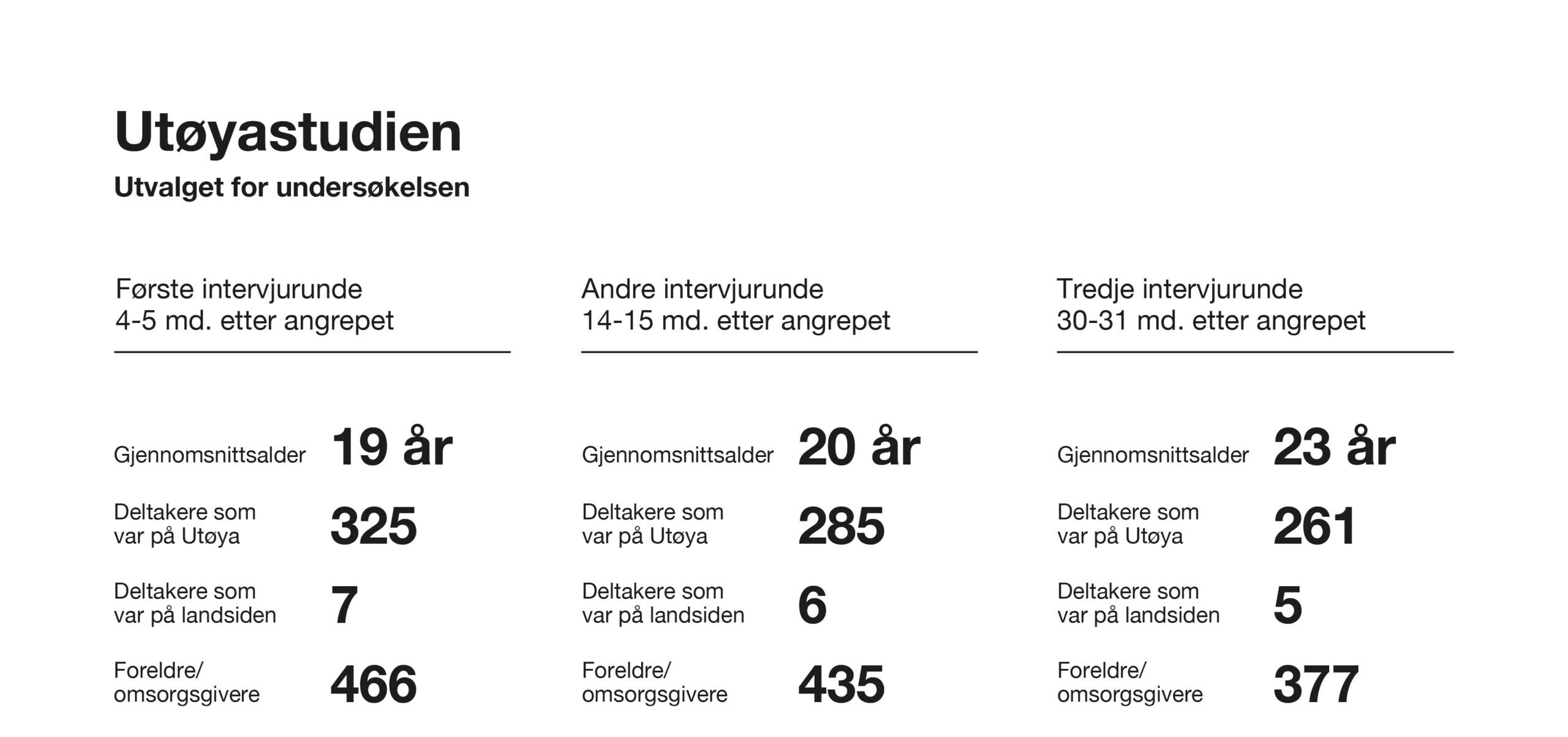 Picture 1
Picture 1 presents the number of participants in the study, from the first interview round through to the third. A total of 355 of the 490 participants were involved in the study at one or more stages.
Utøya on 22 July 2011
The people who were on Utøya on 22 July experienced an extremely threatening situation, where their own life and other people's lives were at risk, and they witnessed other people being injured or killed. Many experienced horrific sensory impressions such as screams of pain, loud noises from striking or shooting, bodies covered in blood, and destruction, which intensified their sense of being in mortal danger. Many were also injured themselves. Picture 2 presents the experiences on Utøya 22 July 2011, reported by participants in the study.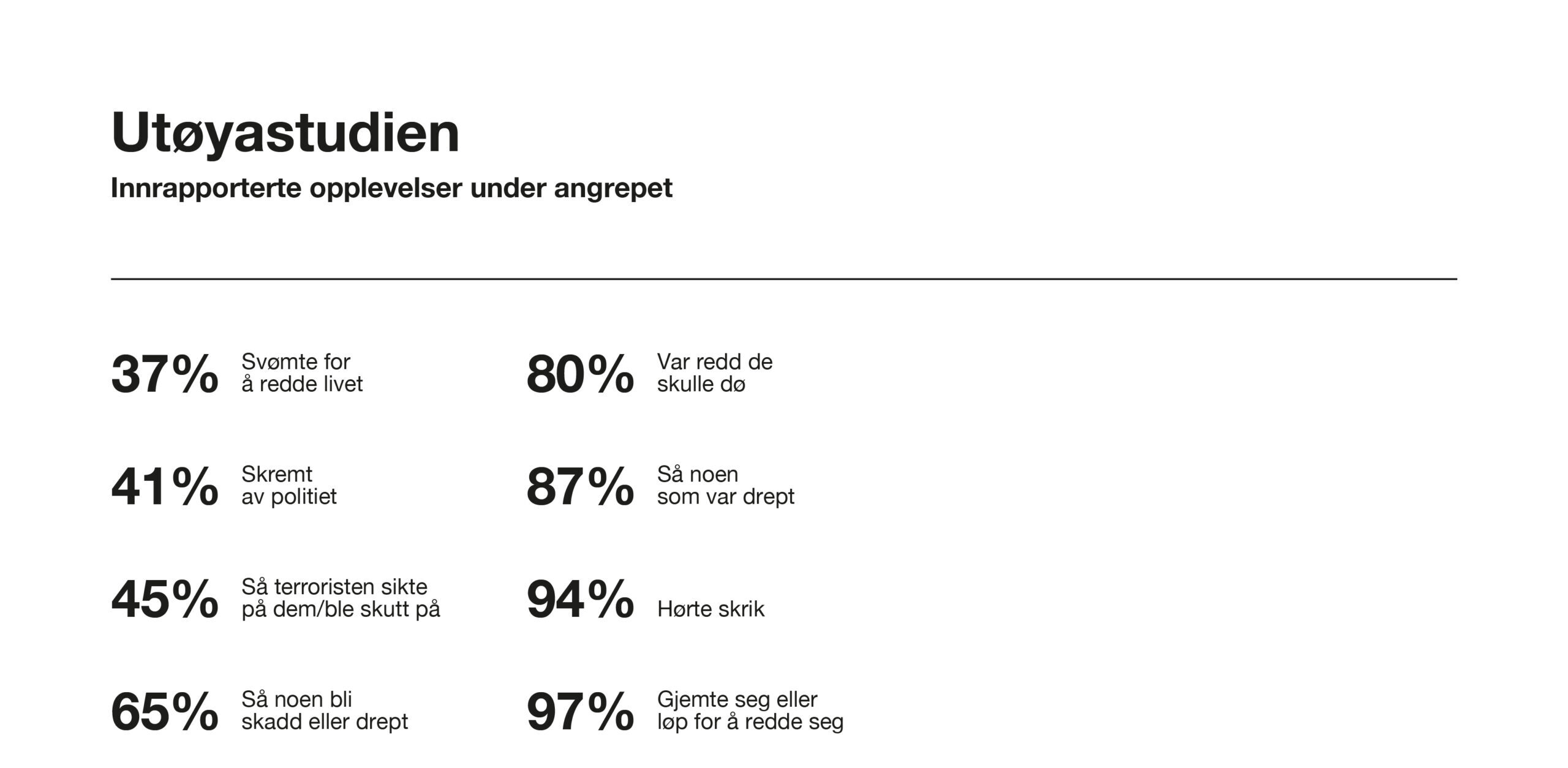 Picture 2
Limited information is available about how young people experience traumatic events and what long-term consequences such events can have. Earlier research has shown that the course of reactions can be very different from case to case and vary over time. Many people are also expected to have psychological reactions in the short or long term, which may affect their normal day-to-day functioning. Sensory experiences during a traumatic event can subsequently trigger a sense of danger after the event, and/or trigger strong emotional reactions because it is closely linked to the memory and experience of danger.
Treatment and support
Post-traumatic stress reactions can be manifested as reliving the event itself – a reaction that, for instance, can be triggered by smells and sounds that remind a person of the event, struggling to avoid thinking about what has happened, and physical stress. Symptoms such as anger, depression, anxiety, phobias and sleep disorders can also characterise life after the event.
After the terror attack on Utøya, a staged model of the national plan for support initiatives was used. The most important principles were to:
integrate the initiatives in the existing public health services
offer proactive support
ensure continuity in the follow-up
tailor the support services according to client needs

Picture 3
Picture 3 presents the number of survivors from Utøya who received support from the psychiatric specialist health service in the second and third interview round in 2012 and 2014.
As part of the follow-up, survivors from Utøya were assigned a designated contact person in the municipality who would contact them and provide information about the available support measures. The Utøya study found much to suggest that the first proactive contact was followed through in the municipalities. Despite this, approximately 12% of survivors in the second interview round reported that their needs for support were not met while 14% reported in the third interview round that they did not receive the support they needed. Among parents, approximately 20% reported in the first interview round that they did not receive the support they needed.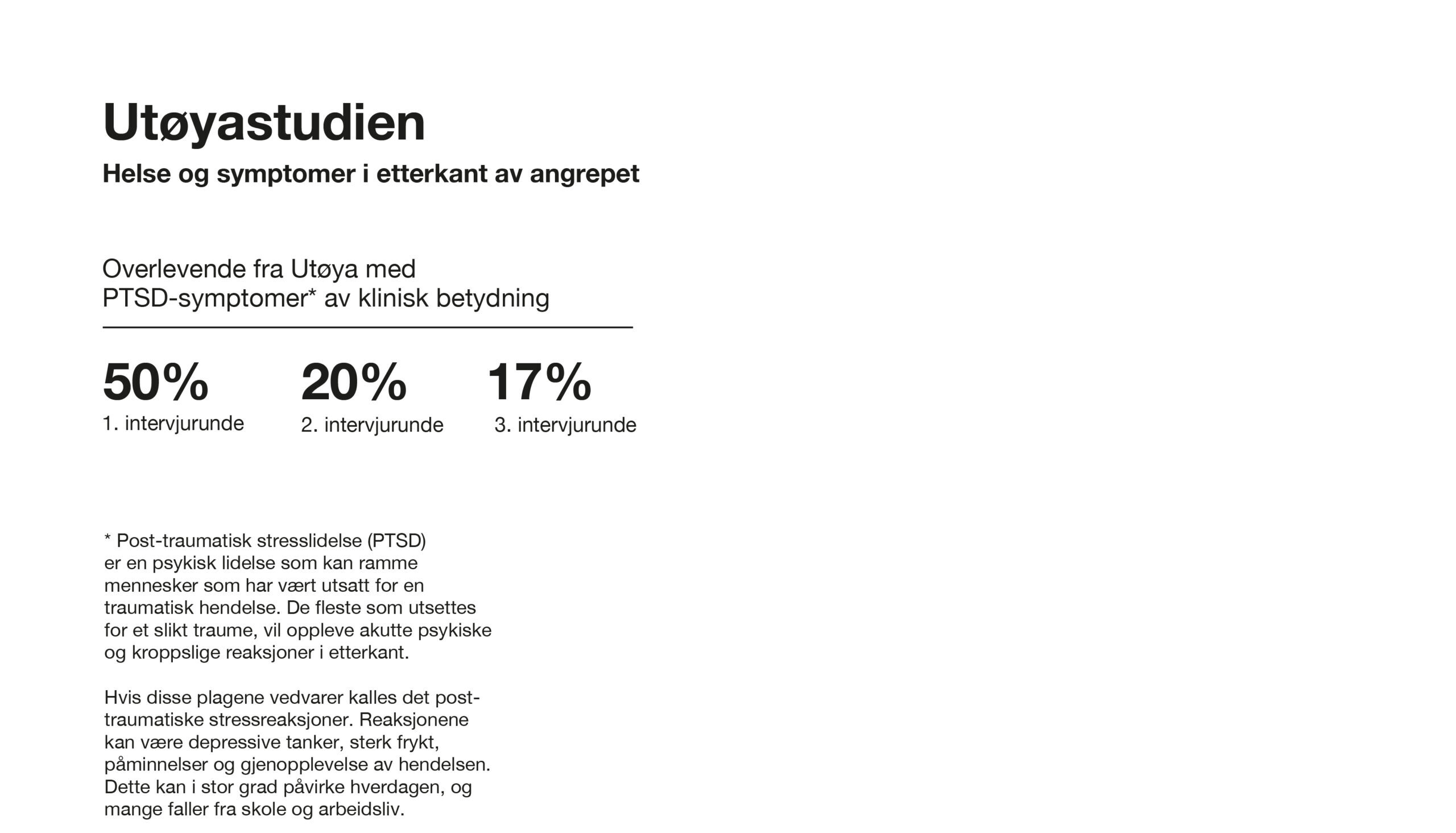 Picture 4
Picture 4 presents the number of Utøya survivors with clinically significant symptoms of PTSD. Although figures in picture 4 show a decrease, the number is still significantly higher than for the general population.
Headaches
The Utøya study looked at whether the risk of migraines and other headaches increases after experiencing a traumatic event. This study compared the prevalence and risk of headaches among Utøya survivors with young people who were not on Utøya that day.

Picture 5
Picture 5 presents the prevalence and risk of headaches 4-5 months after the terrorist attack, and compares the figures for Utøya survivors with young people who were not on Utøya on 22 July 2011.
The injured
Around 60 people who participated in the first interview round had been physically injured. People in this group described more symptoms related to post-traumatic stress reactions than those who had not been physically injured. Many of the injured also experienced the loss of a close friend, boyfriend/girlfriend or a family member during the attack, and many had experienced several highly dangerous situations. Overall, the event had a huge impact on the injured, and they have had greater reactions to these events than those who had not been physically injured.
Academic performance and well-being
Around 80% of those who were on Utøya on 22 July 2011 were either attending school or higher education for the whole or parts of the academic year 2011/2012. What they went through on Utøya created reactions that affected their chances of learning, particularly affecting their concentration and well-being. In order to ensure the best possible chances for learning, it was important to initiate a variety of measures. Around 60% of the survivors, who were attending school, reported in the first interview that they had received additional support during the first year after the attack, and that they were 'very satisfied' with the arrangements. Just over 25% of participants in the second round reported that they had received support, and that they were either satisfied to ´a very high degree´, to ´a high degree´ or ´somewhat satisfied´ with this support. In the third interview round, none of the participants reported negatively on the support they had received.
In the first and second interview round, the study participants reported that they felt they had received great social support from family and friends. Many also reported that despite receiving good support, they chose not to speak to people around them. Many reported that they were afraid of being a negative burden on their social network.
So far, the study has revealed that those who were directly affected by the events on Utøya have had significant psychological reactions to the event and the challenges afterwards, for a long time. The reactions triggered a need for support measures over several years, from municipal health service as well as the specialist health service. The extent of reactions and need for support have decreased over time; however, the extent of mental health issues is much greater than that expected in the general population. The  academic performance amongst the youth has been significantly affected by what they have been through. The survivors reported during this period that social support from family and friends contributed to healing their pain, although many were hesitant to burden their loved ones too much. Helping families after the terror attack has also been a huge challenge for the support services.
Dyb, G. & Næslund, M.B. (2015). 'Opplevelser og reaksjoner hos de som var på Utøya 22. juli 2011'. En oppsummering av tredje intervjurunde. www.nkvts.no [downloaded on 10 March 2020]
Dyb, G. & Jensen, T.K. (ed.) (2019). Å leve videre etter katastrofen. Stressreaksjoner og oppfølging etter traumer. Oslo: Gyldendal.